Are you confused about all the choices that are out there now in the world of Smart Heating?  You are not alone.  A lot of our customers tell us that they are bewildered by all the different devices which are now on offer to homeowners looking to upgrade from basic analogue or digital controls.  Each manufacturer will push THEIR device as being the perfect one for you; but no device, no matter how smart, can be the right device for everyone.  We are going to try and outline some of the important features, along with advantages and possible disadvantages, of the wide range of Smart Heating devices we supply and install.
Simple but Smart Entry Level Controls
The first thing to decide is the level of control you wish to have.  Are you happy to simply be able to turn your heating & hot water on and off, no matter where you are?  This is the most popular option for most people and is also the most affordable.    Using your smartphone, tablet or the smart thermostat, you can turn the heating up and down as you wish.  With most systems you can also set up a schedule which could be the default setting and still have the ability to adjust the temperature at any time and from anywhere.
With this type of system, you could have Thermostatic Radiator Valves (TRVs) fitted on some or all of your radiators and using these, you can choose the desired temperature for each room.  For example, most people would prefer their bedrooms to be cooler than their living areas, and you can do this by simply choosing a setting of between 1 and 5 on the TRV for each radiator.
In this entry level category of Smart Heating Controls we recommend Salus, Ember, Netatmo, Hive & Nest.
Take it to the Next Level!
The next level in Smart Heating would be to have separate control of your heating and hot water.  Not every heating system can have this as it depends on things like pipework.  Usually a quick visit from Niall is all it takes to work out if your house is suitable or not.  We recommend Ember 2 zone or Hive if you want to have 2 zone heating controls.  You will probably need to have further devices installed, such as motorised valves and a hot water temperature sensor.
Ultimate Control of Multiple Zones
The ultimate in Smart Heating is a system called Istabai.  Even in a house which doesn't have the necessary pipework for standard zoning, you can still have zoning with Istabai without the need to dig up all the floors and repipe the whole house.  That is because it is a completely wireless system which can control individual radiators and hot water separately.  With this system you can literally have as many zones as you wish!  You can have every single room on a separate zone.  You can program a specific schedule for each zone, independent of all the other zones.  As well as being able to run schedules, you can boost the heating for any zone manually, from your phone, tablet or pc.  So, just to sum up, Istabai is perfect for homes where the pipework does not allow for any other type of smart heating.  It is completely wireless and can be installed even in very large homes.
We are so impressed with Istabai, we have installed it in our own home.  We have 12 room zones plus separate hot water.  The only catch with Istabai is that it is much more expensive than the entry level systems.   That is because there are so many smart devices involved, with each zone having its own smart temperature sensor and wireless radiator valve.  All of these sensors and wireless valves communicate with the Base Station, which is the central brain of the system.  The room sensors also measure humidity, and both humidity and temperature can be seen on a graph on your phone or pc.
If you like your high-tech toys and want the ultimate in Smart Heating, this might be the system for you.  But, having said that, we have installed Istabai for lots of customers who would not consider themselves at all techy, they just simply wanted precise control of the temperatures in their home.  And if you don't love the idea of creating and setting up schedules for various zones, Mary in our office will be able to do all that for you (she loves that kind of stuff).
Main features of the Smart Heating Controls which we install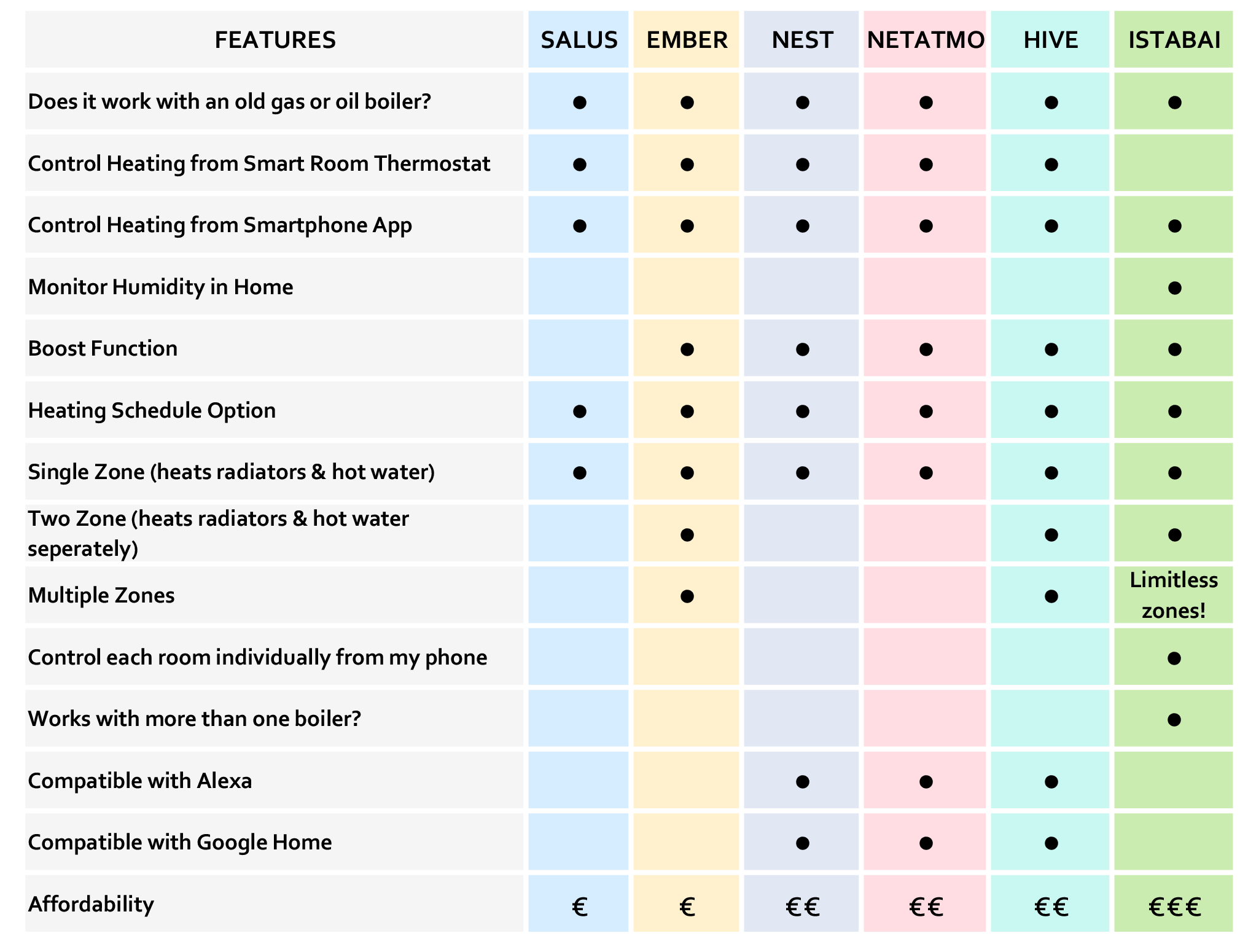 How do I decide?
Because every home is different and every customer's heating requirements are unique, we would recommend getting in touch with us for a chat.  We can arrange for Niall Ryan to call out to you so he can have a quick look at the pipe layout in your house etc.  He will then go through all the options with you and give you an idea of price for your particular system.
If I get a new boiler can I have zoned heating?
The ability to have zoned heating is down to the existing pipework in your house.  Zoning is achieved by fitting devices on your pipework and linking them back to the boiler.  Simply putting in a new boiler will not change anything to do with the pipework in your house.  We can do a quick survey for you and then let you know straight away which options you have regarding smart heating controls.
What if my gas or oil boiler is old?
You can still get Smart Heating controls even if your gas or oil boiler is old.  It is the pipework layout in your house that determines what kind of smart heating controls you can have.  Even if you put in a brand new boiler, you will still have same pipework, so nothing will have changed from a heating control point of view.  But don't worry, no matter what kind of pipework you have in your house, there will be a smart device out there for you.
Are there any grants available?
The answer, in most cases, is yes!  There is an SEAI grant available for Heating Control Upgrade.  This is not a means-tested grant and is available for every house in Ireland built before 2006, (some T&Cs apply).  The grant application is very straight-forward and we will be happy to guide you through the whole process.  The grant money will be paid directly into your bank account a few weeks after the work is completed.