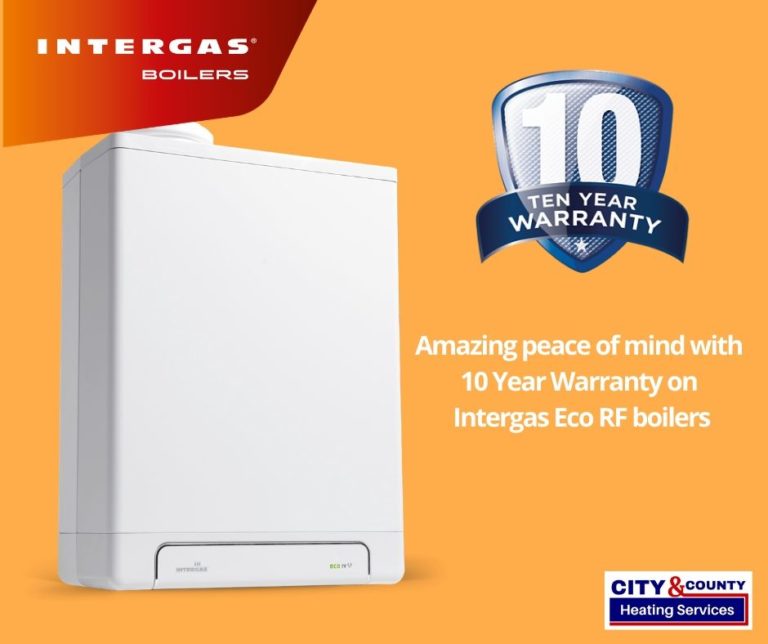 Which boilers do we recommend?
All of the gas boilers we fit are high efficiency condensing boilers.  We install two leading makes of boilers:  Intergas and Viessmann boilers.  Both are well-established, reputable brands in the Irish market.  They come with 5 or 10 year parts and labour warranty, depending on the make and model chosen.   They are premium boilers which are incredibly reliable and definitely built to last.  
Intergas Boilers
The Intergas high efficiency condensing gas boilers are designed & built specifically for the Irish Market. Intergas has been at the forefront of domestic boiler manufacture for over 40 years. The Intergas range is renowned for its A rated high efficiency, dual circuit, indestructible heat exchanger; not one has failed in over 20 years! With only 4 moving parts it is the ultimate boiler for all domestic requirements. Robust construction, low maintenance operation, so ideal for any & all demanding situations.
Combining high efficiency in both hot water and central heating modes, the Intergas Rapid retains all the benefits of Intergas's revolutionary condensing boiler technology. It's available in multiple power outputs to satisfy most domestic applications for both combination and system boilers.
I am delighted to be able to offer the Intergas Eco RF boiler to my customers.  One of the best performing and most versatile boilers on the market today. No plate heat exchanger, no diverter valve, no auto air vent… a virtually indestructible heat exchanger;  not one has failed in over 20 years. With only 4 moving parts it is the ultimate boiler for all domestic requirements. Robust construction, low maintenance operation, ideal for any & all demanding situations.  10 year warranty out of the box. All for a fantastic price! I can't recommend this boiler highly enough. – Niall Ryan
The main benefits of the Intergas heat exchanger are:
Separate heating and hot water circuits – eliminates both diverter valve and separate plate heat exchanger
22mm waterways for Central Heating
12mm waterways for Domestic hot water in combi models
Cast aluminium gives thermal performance like cast iron and acts as a heat store
Solid aluminium block is virtually unbreakable
Copper water channels minimises corrosion
Single continuous waterways minimise risk of blockage or scaling
Totally safe – not damaged by lack of water and no pressure switch
Totally reliable – not one heat exchanger failure in over 20 years
Some of the benefits of the Intergas boiler are as follows:
Burner modulates from 30% to 100% to match the heat demand, resulting in maximum efficiency
Self learning "Eco" mode for hot water
The Intergas boiler is durable with a life expectancy of well over twenty years
Easy access to all parts for servicing
Frost protection is built in
Quiet operation due to soft start burner programme
Pump runs briefly every 24 hrs to prevent sticking
Low operating pressure 0.2bar
Direct hot water is served by a separate circuit in the boiler so, should the pump fail, the system will always deliver hot water
Viessmann Boilers
Viessmann's Vitodens domestic boiler range has been awarded Which? Best Buy status for the third year running. Viessmann is described as a "very smart choice" by the respected UK consumer organisation in its annual survey.
One of the biggest international manufacturers of commercial heating systems, Viessmann have rapidly become the domestic boiler of choice around the world as well.  Viessmann, founded in 1917, has over 12,000 employees across the world.  They are truly international with presence in 12 countries with 23 production divisions, subsidiaries and representations in 74 countries, and 120 sales offices around the world. 
These are fantastic boilers, with ErP Heating Seasonal Efficiency of 94% on the 100-W and a whopping 98% on the Vitodens 200-W (which is a higher end model).  What's more, they are consistently regarded as one of the quietest boilers in their class, at noise emission levels of only 35dB, so you don't hear the boiler humming when you're trying to catch a warm, quiet night's sleep.
Viessmann Vitodens 100-W review boilers are made in Germany.  Now, as far as high efficiency condensing boiler supremacy goes, Viessmann are the undisputed leaders in Germany, and in most of Europe with close to 70% market share. 
You simply cannot go wrong with choosing a Viessmann boiler.  And because their Inox-Radial Stainless Steel Heat Exchanger is built to last, we expect these Viessmann boilers to last decades.
Some features of Viessmann Boilers:
High quality Stainless Steel Inox-Radial Heat Exchanger
Long Term Reliability, Durability and High Energy Efficiency
High Efficiency – 94% and 98% and above on Vitodens 200-W
In-Built Shock Arrester (Avoid Water Hammer Problems)
Combined PRV (Pressure Release Valve) and Condensate Pipe (Easy Installation)
Compact design and low weight
One of the quietest boilers on the market
Available in outputs from 4.7 to 35 kW
Class A rated for Energy Efficiency
Backlit LCD Touch Screen for Easy operation
Combi or System Boiler?

All three manufacturers supply Condensing System boilers and Condensing Combination boilers.  Traditionally in Ireland people had a system boiler and a hot water cylinder.  The system boiler would heat the radiators and the hot water cylinder.  Nowadays, with improved water pressure in many areas of Limerick, it is possible to fit the more efficient condensing combination boiler (where water pressure is sufficient).  The advantage to fitting this type of boiler is that you can separate your heating requirements from your hot water usage - no need for a hot water cylinder and free-up space in your hot-press!  Whenever you turn on a hot water tap, the boiler will supply you with hot water, on demand.  So if you only use a little hot water, you only HEAT a little hot water!  No more wasteful heating of a large hot water cylinder....and no more running out of hot water just when you need it!

See table below for benefits of System and Combination boilers: