If you are having problems with radiators not heating properly, we can power flush your heating system, making your radiators much more efficient at heating your home while also reducing your heating bills.  Our aim is to provide our customers with a complete service which is both friendly and professional; to problem solve and find solutions which fit their needs and also their pockets!  So, whether it is to repair and upgrade your existing heating system or to fit a modern high efficiency system, we are only a call away. Because power flushing, when done properly, takes several hours to do, it is best to have this work done during the Summer months; there is less disruption to you as you won't mind the heating being off for several hours.
Power flushing is the fastest, most efficient and effective method of cleaning a central heating system. The principle is to create a powerful fresh water flow under controlled conditions to agitate and remove debris from the system. By connecting the power flushing unit via either a Filter Adapter, a Pump Head Adapter, a boiler or radiator the system can be thoroughly cleaned of limescale and corrosion debris.

Why Power flush?
To improve radiator performance and heat output
To extend the life of the boiler
To avoid costly repairs, breakdowns and call-out charges
To validate the boiler warranty
To reduce fuel bills and save money
Powerflushing Cleaners
We use Guardian cleaners and inhibitors which protect against the damaging effects of corrosion and limescale to maintain the energy efficiency of the boiler and extend system life. An efficient system minimises fuel bills and reduces carbon emissions.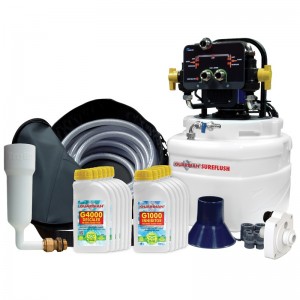 Removes sludge and scale and restores heating efficiency of existing systems
Removes flux residues and other debris
Compatible with all metals and materials commonly used in heating systems
Easy to use, system can be left running normally during cleaning
Neutral, non-hazardous formula